Danielle Roberts always thought she was straight. Her parents were religious, and her brother had already come out as gay, so she didn't think being anything but straight made sense for her. Then in her early twenties, through a mutual friend she met Shea Kucenski, who identified as lesbian.
A few years later, Roberts and Kucenski reconnected and started chatting online. Roberts thought there might be feelings there, but having never been with a woman before, she wasn't sure if she was imagining it or not. They hung out, kissed goodnight, and the rest is herstory!
At first, Roberts felt confused about her sexuality and wondered if her past relationships with men had been inauthentic. Over time, she came to realize that they were just as real as her relationship with Kucenski, and she was in fact bisexual. She faces bi stigma head-on, wearing her identity proudly and visibly since many bisexual people are simply viewed as straight or gay depending on who they're coupled up with.
The couple lives in Woodbury, New Jersey, near Philadelphia. Both have day jobs, but they stay busy in their free time with their own digital marketing agency, Tail of Two Creatives. They're one of only two LGBT-owned businesses in Woodbury, but the city just earned a score of 100 in the equality index for LGBT-friendliness, so they're doing a lot of work to try and attract more LGBTQ-owned and -friendly businesses there.
The pair recently decided to start another business together. After going through the wedding planning process in a very heteronormative industry, they often felt excluded as a same-sex couple. Vendors constantly assumed they were straight, and all the items they found said "Mr. & Mrs." Anything they did find geared toward the LGBTQ community was full of rainbows. The couple, now in their early thirties, decided to launch Inclusive Apparel Co. to provide merchandise for the LGBTQ community that more subtly expresses pride and includes everyone, including the nonbinary and trans community.
Since they launched around Pride season, Roberts and Kucenski are starting with Pride-focused gear, but they plan to later start providing all kinds of inclusive wedding items. For now, the business is a labor of love for the community, but they hope it eventually turns into more. They also plan to do a lot of giving back to the community, which not every company that sells Pride gear does.
In fact, on Saturday we're launching a t-shirt giveaway with Inclusive Apparel Co. in honor of Pride month, so visit our Instagram (@ProfilesinPride) from June 1-4 to enter!
This is Roberts' story of realizing she was bisexual, facing bisexual stereotypes and stigma, and creating a new brand to help the LGBTQ community feel more included, especially during the wedding planning process.
Profiles in Pride: What was your journey to coming out as bisexual?
Danielle Roberts: I feel like my path was a little bit unique in that I didn't really grow into my sexuality until my mid-twenties. I never really considered that it would be a reality for myself, and I never felt like I actually knew. My brother is gay and he came out when he was 15 and he wore it as proudly as his own skin. I figured hey, because we have one LGBT person in the family, that's not a reality for me. I largely dated men my entire life. Shea has been the first and only woman I've ever been with.
We met years and years ago; she was in a relationship, and I was dating her friend. It wasn't until years later that she and I reconnected. I think I was 24 when she and I started talking back and forth online.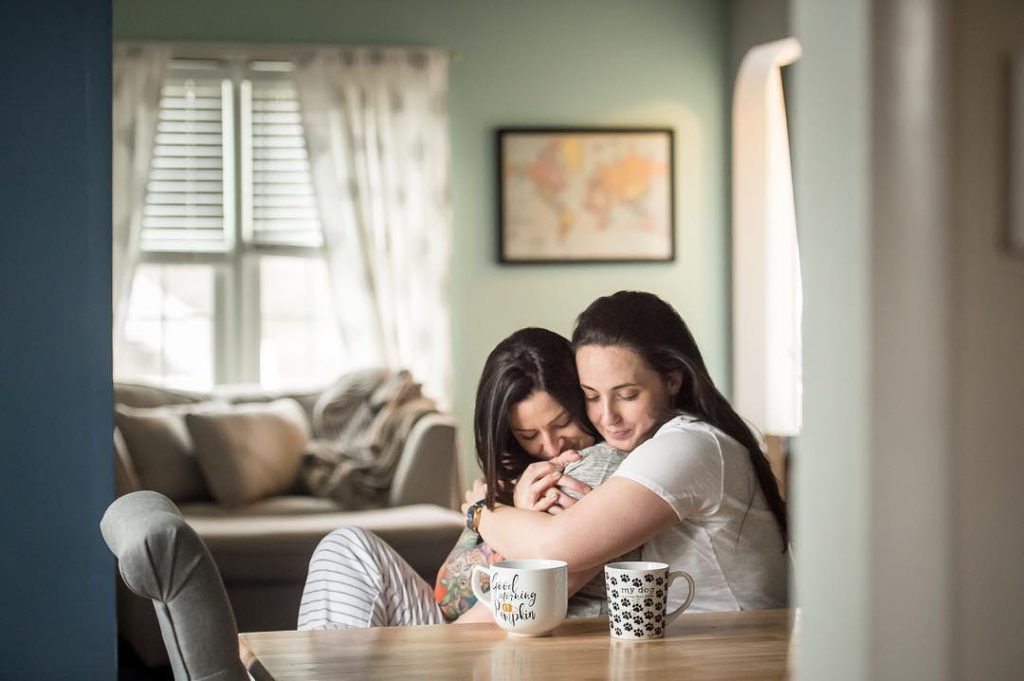 We were talking and flirting, and in the weeks that followed we decided to meet up. I thought, "You know what, maybe this is all something I'm dreaming up in my head; maybe if I just kiss her I'll figure out it's all in my head and I'll just go back to being the straight Danielle that everyone knows." That's definitely not what happened. At the end of the night I kissed her and it was fireworks, and we've been together ever since.
I realized that it's pretty possible to wander through life without fully knowing yourself and growing into yourself. Then I struggled with my sexuality, as far as like, do I exclusively like women? I was pretty hard on myself for a little while, feeling like, oh, maybe with the guys I dated, it was somehow untrue. That wasn't the case. I realized it doesn't have to be an either/or scenario.
Even after Shea and I started dating, it took me a while to fully tell my friends. I was just figuring myself out and I didn't really want to come out for probably six months or so before I actually told everybody.
Also, I didn't feel the need to come out because I never felt like I was hiding, I just happened to discover myself comfortably sitting along a not-so-straight line.
So we've been together since 2015, and we just got married in November. Looking back now, a lot more makes sense now that I've embraced myself. I'm like, "Oh, I didn't want to be like her, I wanted to be with her!" I remember distinctly, I was a strong advocate for my brother. Even in junior year of high school, I wrote my big thesis paper on why gay marriage should be legalized, on the basis of the constitution. I got an A+ and I was so into it. I looked back, and all these little hints were left for me throughout my life! One day it just clicked.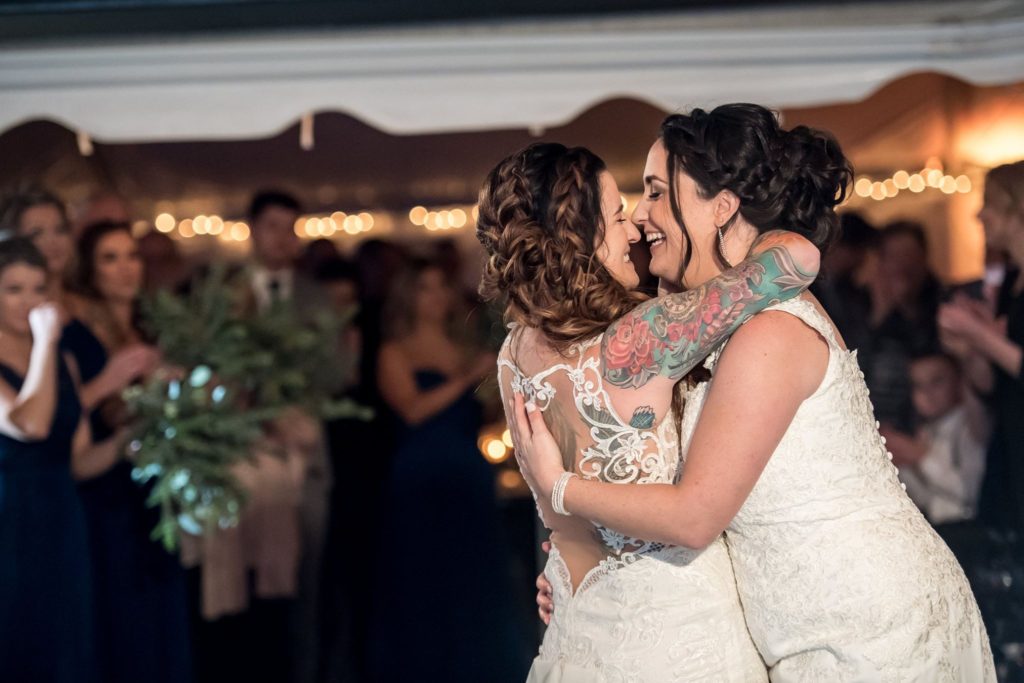 PIP: Haha, yes, looking back I saw some signs in my past too, and it didn't feel like it was possible for me for the longest time either. Losing my dad is what really helped propel me to finally live authentically.
DR: I'm sorry to hear that. I lost my mom when I was 23 and I was with a guy at the time, and it was just a really confusing point where he wasn't necessarily completely supportive. I decided to shut myself off for a while from the dating world entirely and get in touch with myself.
I think if I never did that, I would have never figured things out about myself, and I'd probably still be living life like I was back then. I'm really glad I took time to really figure out what it is that I wanted and what it is that made me happy. I think that kind of led me right into meeting Shea and perfect place, perfect time kind of thing.
My mom never got the chance to meet Shea. One of the things I always wonder is, and I know the answer is yes, but would my mom like Shea? My mom was pretty religious; she was a devout Catholic. My dad is a born-again Christian and he wasn't as accepting when my brother came out. But one of the things that's remarkable about my dad is his perception of the LGBT community has completely evolved. He loves me and Shea and he loves my brother. My brother does drag and my dad went to the gayborhood in Philadelphia and supported his drag event.
The majority of my family didn't come to me and Shea's wedding because it was a gay wedding, but my dad stood up there, he walked me down the aisle, and he gave a speech and said we're supposed to love our children unconditionally the same way that God loves us. He kind of gave them a subtle jab. It made me happy! I'm not a religious person, but he and I have been able to meet in the middle and understand each other a little bit more. I've found that feeling supported that way makes me so much more able to live a happier and more fulfilling life.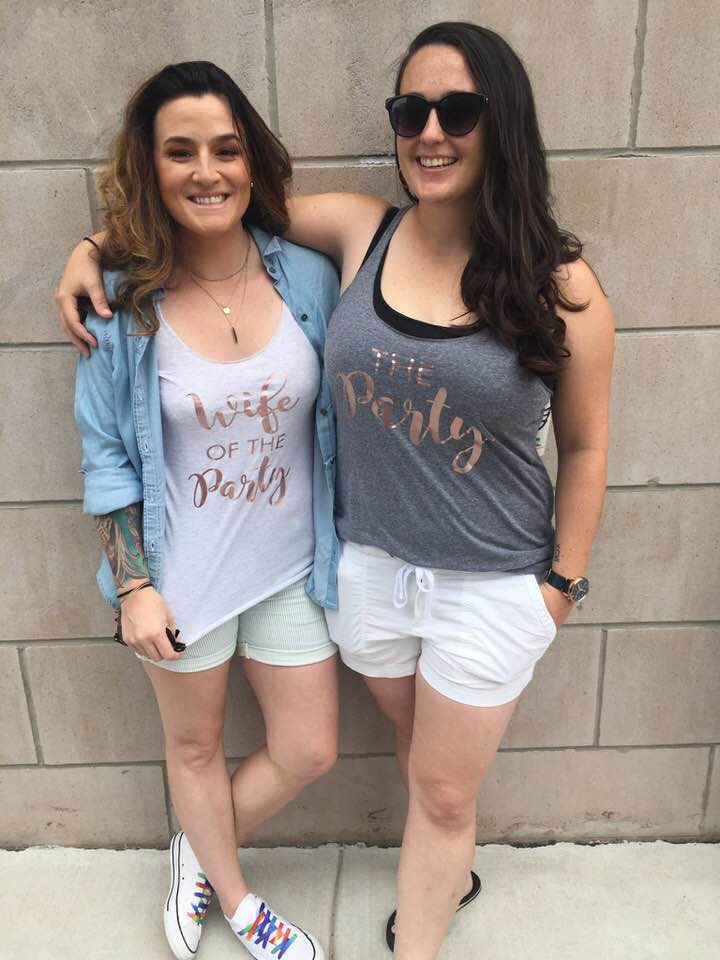 PIP: That's amazing! Do you ever experience biphobia or any of the negative stereotypes?
DR: Yeah, I definitely run into a lot of, "Well, if you're with a dude you're straight, if you're with a girl you're lesbian." It's like, "No, I'm bisexual all the time!" I definitely feel that frustration and pressure.
I think within the community too, there's definitely some work to be done. You kind of feel like you're a unicorn and you don't exist, like you have to pick a side. I feel like there's a layer of explaining that goes along with bisexuality that doesn't necessarily go with other people in the LGBTQ community.
PIP: Definitely. I know we bi folks make up the highest percent of the LGBTQ community, but so few people are out. It's also sometimes hard to tell if pan or queer is a better label since it feels more inclusive.
DR: I definitely feel that, and I've questioned that too! Am I labeling myself correctly? And am I able to change my label? What about people who are transitioning, or people who are gender nonconforming and you can still experience sexual attraction to any of them? I've toyed with using the word queer, but it doesn't feel as comfortable coming out of my mouth for some reason as bisexual. But at the end of the day, I feel like it really doesn't matter, because it's just about loving people because they're fucking awesome.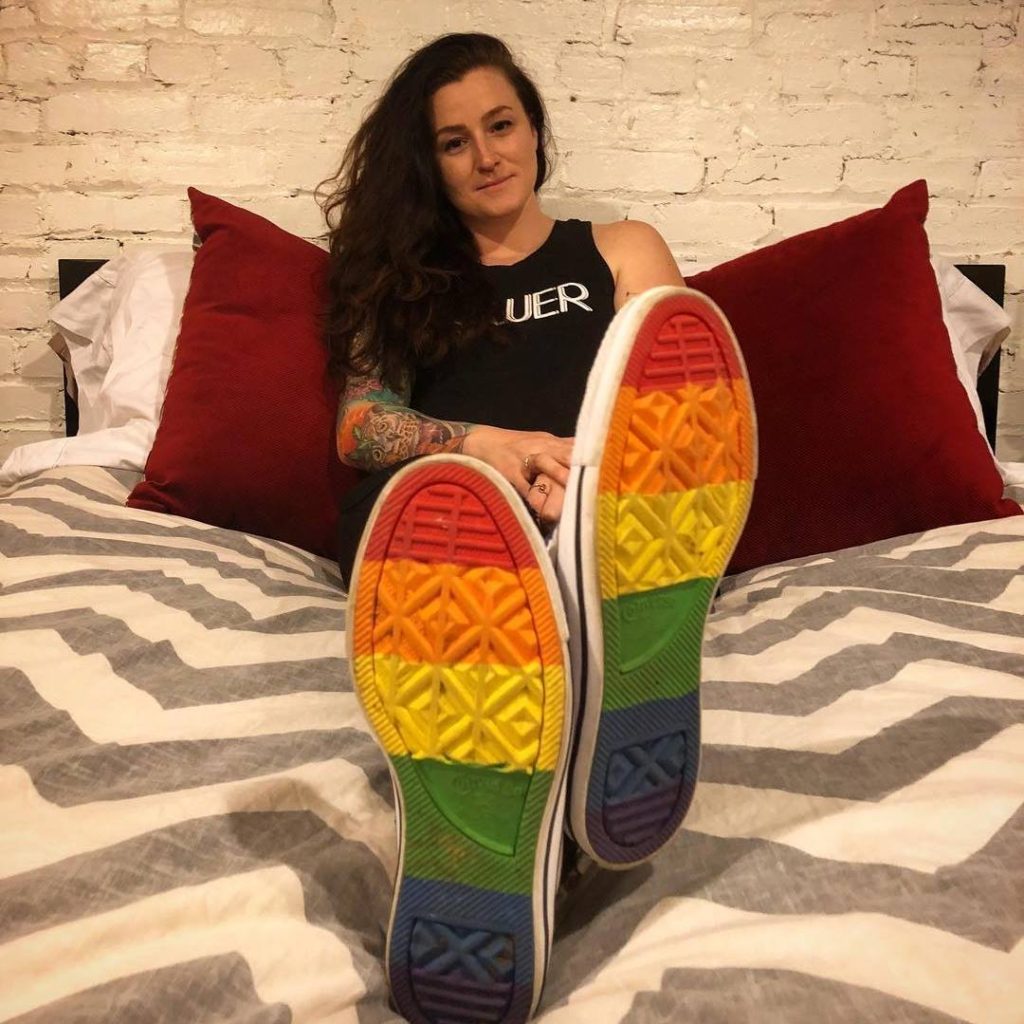 PIP: So why did you and your wife decide to create Inclusive Apparel Co.?
DR: It actually stems back to wedding planning. We noticed a huge gap in the industry that kind of alienated the LGBTQ community. For instance, we went to a bridal show, and vendors assumed that Shea and I were best friends. When we clarified that we were both brides, they asked, "Oh what are the dates of your weddings?" We'd go to a bridal shop and they'd throw around the word "husband," they'd ask, "Who's the lucky guy?"
It really alienated us. Even down to trying to find stuff on Etsy that didn't overdo Mr./Mrs. or bridge/groom. If we did find something that was inclusive, it was rainbow all over the place and gayed it up; it wasn't just like a natural wedding thing you'd find in the heterosexual wedding world. Our DJ even slipped up and he announced us as husband and wife, which was awful!
All along the way, they seemed like big deals at the time, but we were focused on staying positive. When all was said and done, we looked back and felt like, we've come a long way, we were able to get married, but we have a long way to go. Because a lot of these things are probably not a big deal to a lot of people, but they make us feel not welcome or safe and we don't think that's right. It can feel like a looming cloud during wedding plans. I've struggled with anxiety forever and my excitement was a lot of times overshadowed by anticipation of people's comments, and how I might have to answer or respond, and how in turn they'd respond to me.
I know it's hard for people who are bisexual and gay and lesbian, but I'm sure the industry is even harder for transgender and gender-nonconforming individuals. Because you'd be hard-pressed to find a ring dish that said "hers & theirs" or anything like that. So we decided it was time to become more inclusive as a society as a whole, which is how we decided to start Inclusive Apparel.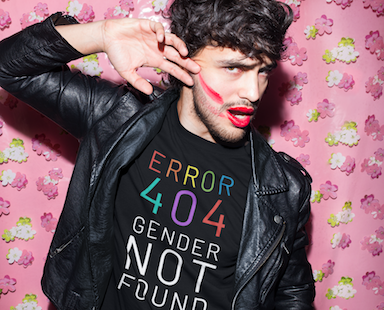 We started out just with selling Pride gear leading up to it, but our end goal is to add a ton of different wedding products that appeal to everybody in the community that make people feel welcome, safe, and included.
Right now we're focusing on Pride, just because it's the time of year, but we want to be a company that gives back too. A lot of companies will sell Pride products and they have anti-gay agendas and they're still going to take your money. We're also committed to donating a portion of proceeds back to different organizations and nonprofits that support the LGBTQ community.
That's the background of how it started. We have big plans for it to grow. Right now we're focusing on apparel and accessories, and we hope to grow in the coming year and add a lot more things as we get more profit.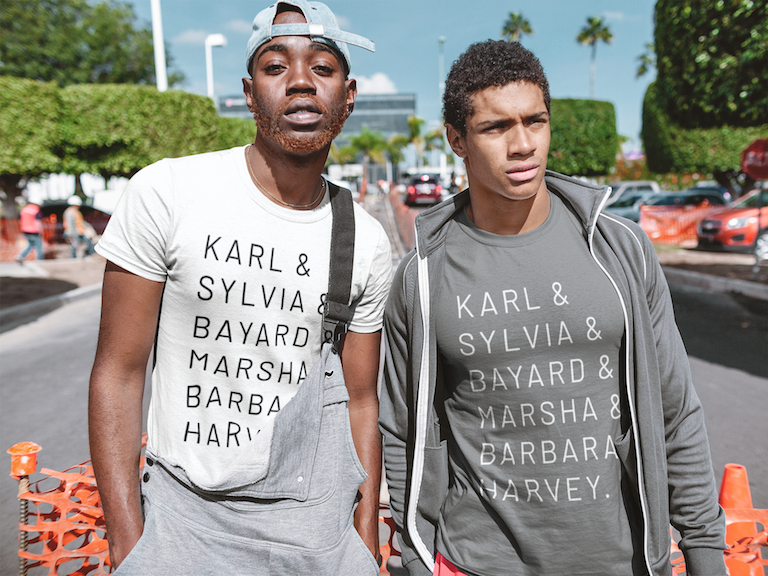 PIP: I love it. But I'm sorry you faced so many frustrations and assumptions during wedding planning.
DR: I think a lot of it is education-based. With our DJ, it was an honest mistake. It wasn't malicious, but we worked with them after the wedding to update their website and change their forms to be more inclusive. Like, "Hey, you just have 'bridesmaids' and 'groomsmen,' but we had a mixed party, so you can be called whatever you want to be called." We helped them update their forms. It was a good back and forth, and it was well-received.
PIP: That's fantastic. Before we go, why do you think it's so important for the LGBTQ community to be able to express their pride?
DR: Because I think people live once, and it's important to live a life that's true and authentic to yourself and not what other people expect of you. Everyone deserves to live in a world that's free from hate and intolerance. The world needs more empathy, and I think people wearing our clothing will get to show a little bit of a different perspective.
We're trying to put different designs out there that you might not see in other companies. Obviously when Pride comes around you have different stuff, but what's going on in Alabama, case in point — we want to focus on giving a voice to people who wouldn't otherwise feel comfortable expressing it in their own words.
Keep up Inclusive Apparel Co. on Instagram @InclusiveApparelCo and on Facebook.